2016 Webelos Pow Wow
When: Saturday, Jan 30, 2016
Last day to register is Friday, Jan 15
Where: 1125 East Alpine Boulevard, Alpine, UT (map)
Cost: $9 per Scout
---
2016 Klondike Derby
When: Friday - Saturday, Feb 5-6, 2016
Where: Alpine Bowery at Lambert Park (map)
Cost: TBD
More information will be coming soon.
Check back or join our Facebook group to receive updates.
---
Rechartering Information
Contact Melissa Boren or Ryan Bertram with any questions about rechartering.
---
Alpine District Roundtable
Roundtable is the 1st Thursday of Each Month (except December)
---
Cub Scout Leaders
Thursday, January 7 at 7:00 pm
Pending Location for 2016:
Chesterfield Chapel
9737 Chesterfield Drive
Cedar Hills, Ut 84062 (map)
---


Boy Scout / Varsity / Venturing Leaders
Thursday, January 7 at 7:00 pm
Location TBD for 2016
Check back or join our Facebook group to receive updates.
Eagle Project approval is at Roundtable in the TBD foyer.
---
Council Events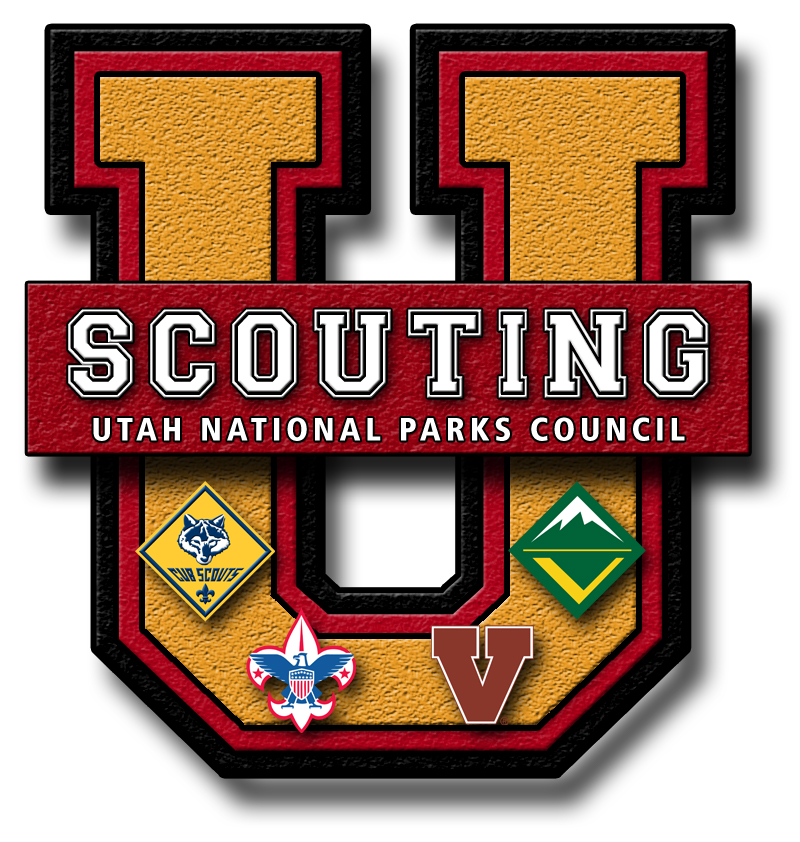 University of Scouting
Great for unit leaders, district leaders, stake leaders, and parents!
When: Saturday, Feb 20, 2016
Where: Orem LDS Institute at UVU (map)
Cost: $10 for the entire day of classes
Registration will open on Dec 1, 2015
---
Utah County Scout Expo & The Big Outdoors Expo
When: February 25-27, 2016
Where: Utah Valley Convention Center (Provo)

Thursday, Feb 25 is Scout Night. All those in Scout uniform that evening receive free admission to The Big Outdoors and Scout Expos!
Sell Expo Tickets (and Coupon Cards) as a Fundraiser
More info at UtahScouts.org/expo
---
Facebook Groups & Blogs
Alpine District Scouters Facebook Group
Alpine District Cubs Facebook Group
Alpine District Cub Scouts Blog
---
LDS Journey to Excellence
The Utah National Parks Council has issed a version of Journey to Excellence specifically for LDS Packs, 11 year olds, Troops, Teams, and Crews. These address the same areas of excellence, but the measures are more applicable to how Scouting runs within the LDS church. Please begin using these immediately, in place of the current 2015 Journey to Excellence forms.
Packs | 11 Year Olds | Troops | Teams | Crews
---
Council Newsletter
The purpose of this monthly newsletter is to inform stake and ward leadership about various Scouting topics and activities that may be of interest.
---

LDS-BSA Relationships committees have increased the number of Boy Scouts of America (BSA) local councils working more effectively with local leadership from The Church of Jesus Christ of Latter-day Saints (LDS) to deliver the quality Scouting program that LDS young men, adult leaders, and the surrounding communities deserve.
---
Orem Scout
Service Center

Location:

748 North 1340 West Orem City, Utah 84057 (801) 437-6222 (map)
---
Orem Scout Shop

(801) 221-1008

Same location and hours as Service Center (See Above)