---
Wood Badge encompasses 5 themes that support positive and effective leadership. By attending Wood Badge, you will be able to see Scouting as a family of Scout Programs and revitalize your commitment to Scouting.
Is Wood Badge For Me?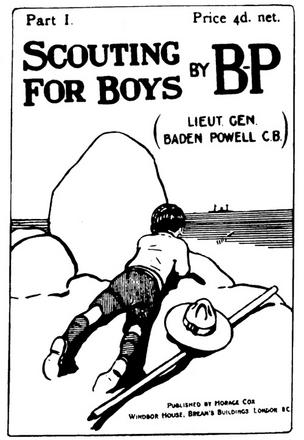 The Wood Badge Vision
If you signed up for Baden-Powell's first Wood Badge course in the fall of 1919 at Gilwell Park outside of London, you could have learned animal tracking, art, useful knots, and how to cook. And while learning those skills, you would have learned something else: Baden-Powell would have helped you to catch your own vision of how to lead Scouts.
Catching the vision of how you can be a great Scout leader is still one of the purposes of Wood Badge. The course was refined over the years (art, tracking, knots, and cooking are taught elsewhere), and was shortened from the original 12 days to five (2020). Advanced Scout leadership training is still the heart and purpose of Wood Badge, and the reward of sharing in this hands-on-experience is catching your own vision of how to help boys feel the spirit of Scouting and become great leaders.
Careful! It May Change Your Life
While a Wood Badge course teaches you current, proven leadership principles, I believe the genius behind Wood Badge is that you learn by doing in a patrol setting. You'll acquire leadership tools and practice some models of success. Along the way, you'll probably feel something you would like your boys to feel: the spirit of Scouting. And it may change your life.
Here's an edited version of thoughts shared this summer by several Wood Badge participants:
"Wow, where do I find the words to say thank you!? You will never be able to know how much you have affected my life for the good."
"My prayer and desire was answered because of your talents, testimonies, work and service. I am so thankful to have been blessed to be here at Wood Badge. My testimony has been strengthened. Thank you!"
"Wood Badge changed my outlook on Scouting. I have been converted! Truly converted!! I have felt the spirit many times over these six days and have been taught important principles. Thank you! Not only for me but in behalf of the boys I serve."
Others May See You've Caught the Spirit of Scouting
When you come home from Wood Badge, see whether others notice something different about you.
One Scouter shared his family's impression of him after returning to the second half of his weekend Wood Badge course. He wrote, "I just want to say how much this experience means to me. My life is changed for the better. During the break between weekends, my family noticed something had changed. My 4-year-old daughter asked my wife, "What happened to Daddy?" Even my wife asked how many times I could go to Wood Badge so I could keep improving. Thanks so much!"
Wood Badge will help you become a better Scout leader, and will likely also make you a better person along the way. Sign up soon for your Wood Badge experience. Do your best to serve others by improving your leadership skills. If you do, you'll help fulfill Baden-Powell's vision that Scouting can bring about God's Kingdom on earth. Make that vision yours by attending Wood Badge.
(This article is copied from the LDS-BSA October 2007 newsletter and shared with permission).
Wood Badge Forms
Forms used to prepare for your Wood Badge experience. The medical form and resource questionnaire should be sent to your Course Director (same as course Scoutmaster) as soon as possible.

You should use your normal Scouting uniform. In other words, you have no need to remove any official, adult BSA authorized patches (knots or unit numerals). If you follow the inspection sheets, you should not have a need remove nor sew anything during course. You should wear your the numerals of your unit, not a 1 (unless your unit is 1). Patrol medallions are for youth to wear only.
A Brief History
The First Scoutmasters' Course at Gilwell Park, September, 1919.
Baden-Powell took the first steps in the training of Scouters by organizing a series of lectures for Scouters in 1911. He made great strides by devising and instituting Wood Badge training in 1919. Wood Badge recipients now number more than 100,000 throughout the world.
The object of the Wood Badge course is to demonstrate as practically as possible the aims and methods of Scouting. Upon successful completion of the course, the participant receives a parchment certificate and the Wood Badge-two wooden beads worn on a leather thong around the neck. These beads replicate the beads found by Baden-Powell during a campaign in Africa in 1888. They belonged to Dinizulu, an African chieftain. In searching for a suitable recognition for those who completed the first course in 1919, Baden-Powell remembered the beads and decided to present a bead to each participant. At that time, the course was called Wood Badge.

The Wood Badge may be worn only with an official field uniform of the Boy Scouts of America. The Scouter to whom it has been awarded may also wear the tan neckerchief with its patch of McLaren tartan at the back. The Wood Badge neckerchief may only be worn with the accompanying leather neckerchief slide or woggle.
---
?Gilwell Park became the permanent home of Wood Badge?
---
Wood Badge Training Gets a Permanent Home
In 1919, W.F. de Bois McLaren, a district commissioner in Scotland, purchased Gilwell Park and presented it to the Scout Association of Britain. He wanted ?to provide a training ground for the officers of the Scouting movement.? Consequently, Gilwell Park became the permanent home of Wood Badge training in England and annually welcomes Scouters from around the world. The axe and log symbol associated with the Wood Badge is actually the totem of Gilwell Park.

In 1929, at the Third World Jamboree at Birkenhead, England, Sir Baden-Powell was made a baron by his king, and became Lord Baden-Powell of Gilwell.
Wood Badge Resources