National Eagle Scout Association
Outstanding Eagle Scout Award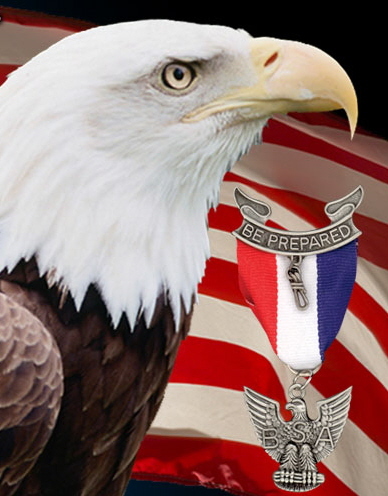 Nominate an Outstanding Eagle Scout
The Eagle Scout Rank is a sign of distinction among American youth. Fewer than 5% of those involved in scouting achieve this honor. It is a symbol of a well traveled journey of personal development and a life-long commitment to live the Scout Oath and Law.

Please help us to identify and honor our brother eagles who have built on this solid foundation to excel in their chosen life's work and in their volunteer community service, as well. Just as the Eagle represents the top 5% of youth achievers in scouting, the NESA (National Eagle Scout Association) Outstanding Eagle Scout Award (NOESA) honors fewer than the upper one percent of successful adult Eagle Scouts within each BSA council.

All NOESA recipients must be EagleScouts in good standing with the Boy Scouts of America and either be registeredwith or have their primary residence within the boundaries of the nominatingcouncil. Examples of possible recipients include:
· Local heroes and celebrities at thepeak of their notoriety whose achievements outside of Scouting have touched andinspired others;
· Philanthropists, public servants,educators, or business owners who have made a positive, long-term impact ascornerstones of the community;
· Individuals who have attainedprominence at the state or regional level in their profession or avocation—anavocation being any activity including but not limited to athletics, hobbies,collecting, outdoor adventure, and record-setting activities.
Each recipient's actions andaccomplishments should elevate the stature of Eagle Scouts in the public eye,and each recipient shall be held to the standards set forth in the Scout Oath,Scout Law, and national BSA standards for membership.
The NOESA award was announced in 2010 during our Centennial and the first 93 recipients were honored in 2011. Our councils list of Outstanding Eagle Scouts is online.

This award was created to recognize Outstanding Eagle Scouts who have served closer to home or who have distinguished themselves nationally but are not yet old enough to qualify for the Distinguished Eagle Scout Award (which requires 25 years tenure as an Eagle Scout).