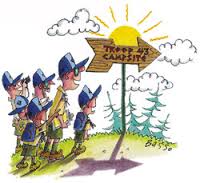 CAMPING - The "OUTING" of Scouting
Washington 5th Ward,

Washington Stake

2014 - 50 Miler Hike on Pine Mountain

We built a website and created a blog that charts what we did day by day to complete our 50 miler. I also have the prep work that we put into it. Great hike, I highly recommend it. Email if you have any questions on how to pull it off. I hiked the roughest part with my brother in one day (25ish miles) before I took the scouts up there. There are plenty of ways off the mountain, never do it with less than three leaders, never do it without checking packs/loading packs two days before event. We helped Park rangers clear trail of debris and boulders, helped mark trails, and cleaned up camp sites. Looking down on Zion, kolob fingers, and the north part of the grand canyon was amazing. We conducted some mirror signaling with members of our ward, and had a blast.