Service Opportunities
Local organizations listed below have asked for Scout assistance! Please support your community by Doing a Good Turn Daily.
---
Utah County UDSF Buddy Walk - September 25
The Buddy Waalk is the chapter's primary fundraiser with all monies collected used to fund the capter's activities and services, including providing newborn kits to new mothers who have a child born with Down syndrome. The Buddy Walk celebrates Down Syndrome Awareness Month in October and to promote acceptance and inclusion of people with Down syndrome.
They are looking for assistance in areas such as:
Setup/take down
Man water stations for 5K and Buddy Walk
Serve breakfast prior to Buddy Walk
Others
Date: Saturday, September 25
Location: Cedar Ridge Elementary, 4501 W Cedar Hills Dr, Cedar Hills, UT
Contact: Adele Marcum 801-885-5547 or Lisa Cheney 801-787-6094.
---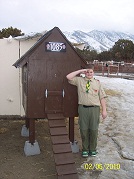 Friends in Need Animal Rescue
This is a small independent animal rescue located in Eagle Mountain. Their goal is to take care of all those in need - some of our friends need a home, some need special medical attention. Their goals are to continue community and veterinary education and the welfare of all animals.
For more information, and to register to provide service, contact Kim O'Donnell at 801-440-9931 or view their website at www.friends-in-need.org.
---