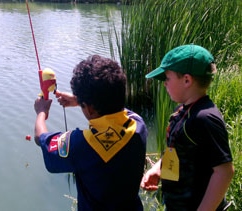 Join us on Monday afternoons for a fun adventure of fishing!
We'll be covering all the basics of learning how to fish as well as the rules and what kinds of fish we can find in our area.
This class will pass off the Bear Adventure - "A Bear Goes Fishing". This doesn't mean you have to be a Bear Scout to come though. Any youth older than 6 is welcome to join us. (Activities will be geared towards ages 8-11, so please your discretion when registering older and younger youth).
All equipment is provided.