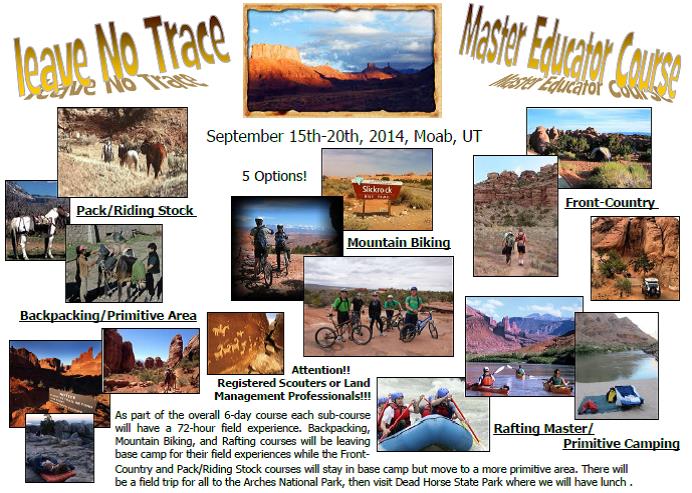 Click the image to download a flyer.
The base camp for the primary and all 5 Leave No Trace (LNT) Master Educator (ME) sub-courses will be BSA's Entrada High Adventure Base near Moab, UT. Base camp is snuggled in a small valley with scattered Cedar trees and ringed with spectacular cliffs of Entrada sandstone. Click here for a map to Entrada.
As part of the overall 6-day course each sub-course will have a 72-hour field experience. The Backpacking, Mountain Biking, and Rafting courses will be leaving base camp for their field experiences while the Front-Country and Pack/Riding Stock courses will stay in base camp but move to a more primitive area.
There will be a field trip for all to the Arches National Park (NP) where we will meet with a Ranger to discuss minimizing impacts to the local cryptobiotic soil. We will take a short hike in Arches NP, and then visit Dead Horse State Park where we will have lunch and view a "gooseneck" in the Colorado River an impressive 2,000 Feet below.
Maximum class size for all courses is 12 students.
Backpacking LNT-ME Course: Grand Gulch Backpacking Venue. After securing a permit from the Kane Gulch Ranger Station, our group will enter the BLM Primitive Area via the Bullet Canyon Trailhead, and during the next three days hike to Sheik Canyon, turn around and hike back to Bullet Canyon Trailhead. This is an open camping area. The area is rife with archeological ruins for "Leave What You Find" and offers multiple decision points for "Camp on Durable Surfaces" given the vicissitudes of possible sites. The course is taught by Erik Lund, Leave No Trace Master Educator and the Idaho State LNT Advocate.
Front-Country LNT-ME Course: Frontcountry is defined as an outdoor area that is close to a road or urban area. Frontcountry recreation is an important focus for Leave No Trace since 85% of all outdoor recreation takes place within easy access from the road. In the U.S. there are more people getting out to car camp and day hike than backpackers according to the Outdoor Industry Association. The course provides participants with a comprehensive overview of Leave No Trace techniques through practical application in a Frontcountry setting.
Mountain Bike LNT-ME Course: We will be learning about Leave No Trace while exploring Moab, Utah on mountain bike. Our Leave No Trace journey will start and end at Entrada High Adventure Base in Moab, Utah. We will explore the Slick Rock Trail and the Sand Flats Recreation Area on mountain bikes while learning the seven principles of Leave No Trace. We will each teach a Leave No Trace principle while biking on the trail 10-20 miles a day. We will have a sag wagon with us to carry our camping gear as we explore the Utah back country and learn how to teach low impact camping methods.
Pack/Riding Stock LNT-ME Course: This course is designed to teach participants the principles of Leave No Trace (LNT) as it applies to the use of horses and mules in the backcountry and front country. Students learn "hands-on" teaching methods and techniques for teaching outdoor ethics to diverse audiences. Graduates are expected to share the knowledge gained in this course with others, in a "train-the-trainer" format. All material and information presented is based on the latest wildland recreation research. The course is taught by Craig Allen, Leave No Trace Master Educator and the Utah State LNT Advocate. He is assisted by other Master Level Instructors.
Rafting Master LNT-ME Course: Near Moab, Utah, nestled in the Canyonlands, is a meandering piece of the Colorado River. This waterway at times may have some challenges. As we paddle along in a raft or a kayak this adventure will be full of opportunities to view the spectacular scenery. The journey will be three nights primitive camping out as we learn to be Leave No Trace Master Educators. We will explore some historical spots as we make our way down river as well. We will be able to visualize recreational damage to the environment and discuss ways to minimize our impacts. All in all this Trek will be living three days in one of our most beautiful waterways.