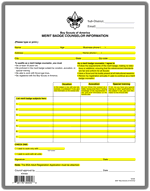 Step 1: Merit Badge Counselor Application
Print off and fill out the highlighted portions of the DISCLOSURE/AUTHORIZATION FORM theADULT APPLICATION, and the MERIT BADGE COUNSELOR INFORMATION form. Turn in all forms to the council offices or to the District Executive in person, by mail, or by email.

Step 2: Complete Youth Protection Training Online
This is a completely online training that will take about 20 to 40 minutes to complete. This is required for all counselors to complete every two years. Your proof of completion of Youth Protection Training must be turned in with your Merit Badge Counselor Application!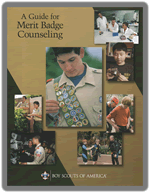 Step 3: Complete Merit Badge Counselor Orientation
This module will guide new and potential merit badge counselors through their responsibilities in the role and will give them an understanding of the methods of counseling Scouts. It is intended as a short orientation course for new merit badge counselors before they begin working with Scouts.