Provo Peak District Eagle Advancement
Congratulations on your hard work, commitment, and dedication to Scouting and to Reach for Eagle!
This page explains basic district procedures for advancement to Eagle. Scouts, parents, unit leaders, and unit committee members are invited to review this page periodically.
Please note that not all policies or procedures are listed here. For detailed policy or procedure questions, Scouts should contact their district-appointed Eagle coach (see the Eagle Scout Coach section for coach details).
Process that Will Assist You
Before your 18th Birthday (Requirements 1 – 5 Below)
Attend a "Life to Eagle" presentation
Sign up for an Eagle Scout Coach
Eagle Service Project
Schedule / or Walk-In Project Proposal Approval
Complete your Eagle Project
(All the Above Requirements before your 18th Birthday)
Before OR after your 18th birthday
Submit your Eagle Packet (This & the next requirement can be done after 18th Birthday)
Await for an email invite for your "Eagle Board of Review" Date and Time
18th Birthday
All requirements for Eagle (except requirements 7 & 8 from above) must be completed before the 18th birthday.
Life to Eagle Presentation
WHO MAY ATTEND:

All Scouts who have been advanced to the rank of Star and Life Scout
All other Scouts who are interested but are not yet Star or Life Scouts
All Parents of Scouts, Committee Chairs, Committee Members, Stake Presidencies, Bishoprics, Scout Masters, Scout Assistants Leaders, Scout Mentors, Eagle Coaches, Potential Eagle Coaches, Eagle Night Volunteers, Eagle Night Potential Volunteers, and Anyone Else Involved with Scouting that is interested.

DAY: Second Thursday of Every Month
TIME: 7 PM
LOCATION: LDS Grandview Chapel
ADDRESS: 1555 N 1350 W, Provo, 84604
MAP: We meet in the south end of the building.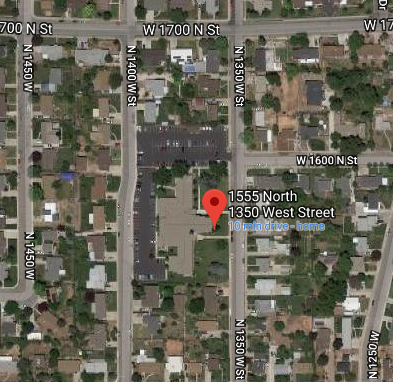 Eagle Scout Coach
Scouts should begin working with a district-appointed Eagle coach soon after achieving the rank of Life Scout. Only a district-appointed coach meets the requirements of an Eagle Scout Service Project Coach outlined in
Guide to Advancement, section 9.0.2.9
. Scouts should contact a district-appointed coach
at least one week before
seeking district approval.
Eagle Scout Service Project
NO PENCIL IS TO BE USED ON WORKBOOK
. Blue or Black Pen or Typed.
A Scout obtains district approval before beginning actual work on an Eagle project.
District Project Proposal Approvals
WHO MAY ATTEND: You, Your parent/s, and Scout Leader
DAY: Third Thursday of Every Month
TIME: 6:30 – 8:15 PM
LOCATION: LDS Grandview Chapel
ADDRESS: 1555 N 1350 W, Provo, 84604
MAP: See Map Above.
YOU MAY SCHEDULE YOUR APPOINTMENT
here
. This link is first come first serve. If there are no time slots remaining, they have been taken. Please come as a Walk-in.
WALK-INS: There will be a sign-up sheet when you walk in. You will be taken on a first come first serve basis.
PLEASE READ CAREFULLY BEFORE ARRIVING: Your Eagle Scout Project Proposal must be complete to be approved:
Workbook: Bring entire workbook, with the Proposal Completed; (NO PENCIL); typed or written legibly in blue/black ink
Signed by you (The Scout)
Signed by the Beneficiary
Signed by your Unit Leader
Signed by your Committee Chair
NOTE: If the workbook is not complete, and/or missing signatures: We can review your project with you and provide feedback, but we will not be able to approve the project that night and you will need to reschedule for your appointment.
ON YOUR DAY:
Dress in Full Class "A" Scout Uniform, or Sunday Dress
Bring Completed Workbook with all Signatures
Complete Your Eagle Project
Your Eagle Service Project and Signature Dates, Must ALL BE BEFORE YOUR 18th BIRTHDAY.
Submitting a Completed Eagle Application Packet
Important Note: A completed Eagle packet is to be submitted to a district-appointed Eagle coach at least 10 days prior to the Eagle Night in which the Scout wishes to appear before a board of review.
After all requirements have been met, a Scout meets with a district-appointed Eagle coach to prepare all necessary application materials. The Scout provides the following materials in a paper clip or folder (no binders or sheet protectors):
Eagle Scout Rank Application

The most recent form is to be used and is available at Advancement Resources, under the Rank Advancement section.
The application is to be printed on one page, front and back.

Candidate Statistics Report

This is provided by the Eagle Coach

Member Unit Advancement Summary

The summary is to be current (Includeing all merit badges listed on the rank application).
The summary is obtained by the Scouts unit leader or committee member from Internet Advancement.

Statement of Ambitions and Positions

Details for this statement are given in requirement 7.
Positions, Honors, Achievement Certificates place after Statement Bottom of page, or second page.
Questions about this requirement should be directed to the district-appointed Eagle coach.

Letters of Recommendation

THESE NEVER GO TO THE SCOUT. They go to the Eagle Coach only.
Contact a district-appointed Eagle coach before requesting recommendations.
Recommendations from references are to be sent by regular mail directly to the district-appointed Eagle coach; the Scout should not receive the letters, even in sealed envelopes. These letters should not be form letters. Persons writing letters are invited to describe how they have seen the Scout live the Scout Oath and Scout Law.

Eagle Scout Service Project Workbook

All pages (Proposal, Plan, Report) of the workbook WITH ALL SIGNATURES should be included in the packet.
Important Note (again): A completed Eagle packet is to be submitted to a district-appointed Eagle coach at least 10 days prior to the Eagle Night in which the Scout wishes to appear before a board of review.
Board of Review
EMAIL NOTIFICATION: You will receive an email from the Eagle Secretary with detailed instructions.
WHO MAY ATTEND: You, Your parent/s, and Scout Leader, any others you want to bring with you.
DAY: Third Thursday of Every Month
TIME: 6:30 – 8:15 PM
LOCATION: LDS Grandview Chapel
ADDRESS: 1555 N 1350 W, Provo, 84604
MAP: See Map Above
Questions