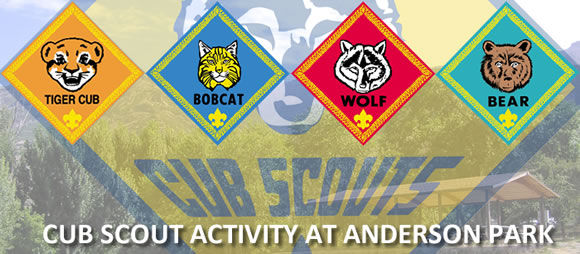 Registration: All boys MUST be registered and paid by May 3. Payments are made online or at the Scout Office 748 N 1340 W in Orem. Payments can also be dropped off to Peter Brown's home at 390 E 200 S in Pleasant Grove (call ahead).
When: Wednesday, June 6
Time: Registration & Patrol Assignments at 8:00 AM - Event Opening Ceremonies at 8:30 AM
Where: Anderson Park - Half way up 200 S at 1000 E in Pleasant Grove. Parking is limited; please carpool.
Cost: $4.00 MUST be paid online or at the Scout Office.
Bring: Water. A drink & light snack will be provided for the boys.
**Adults may wish to being a folding camp chair.
Registration: 8:15-8:45 AM
Opening Ceremony: 8:45 - 9:00 AM
Program Rotations: 30 Minutes each
Closing Ceremony: 12:45 - 1:00 PM
Call Jeralyn Merril for more Information: 801-785-4721
NOTE: THIS EVENT IS FOR BATTLE CREEK DISTRICT UNITS ONLY!!!