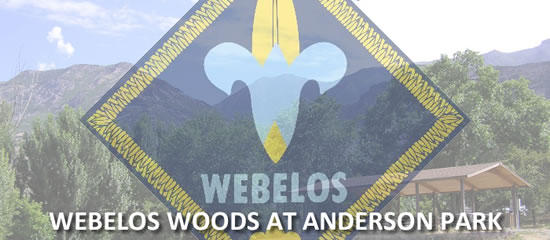 Webelos Woods is a Webelos and adult activity. A boy must be registered as a Webelos Scout or become one during the summer of 2012. It is best if each boy has an adult partner. It is designed to give the 10-year-old boy an exciting preview of Scouting and help pass off several requirements toward the following activity badges:
Forester
Outdoosman
Geologist
Naturalist
Outdoor Cooking
Orienteering
Fire Building
Knot Tying
Scientist.
This event fulfills the Arrow of Light Requirement for attending a Scout camp. Please come in Uniform.
Registration: All boys MUST be registered online by May 3, 2012. Payment must be made online or at the Scout Office.
When: Saturday, June 16
Where: Anderson Park, Halfway up 200 S at 1000 E, Pleasant Grove. Parking is limited - Please carpool.
Cost: $4.00 a boy, MUST be paid by May 3 online or at the Scout Office.
Bring: Water. A drink & light snack will be provided for the boys. Adults may wish to bring a folding camp chair.
Questions? Call Kris Van Wagoner @ 801-785-2571 or Jeralyn Merrill @ 801-785-4721