---
Leader Training
---
Trained leaders provide a quality, fun-filled program for Scouting units. When leaders understand Scouting, they are more effective in their roles.
What does it mean to be "Trained", and what is required to receive the "Trained" patch?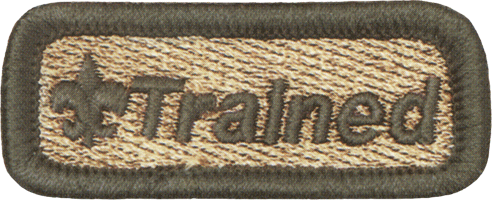 The following shows the natural sequence that leaders should follow to become "Trained".
Fast Start:This

online course

provides useful training to help you understand how Scouting works.
Youth Protection Training:This

online course

is required for all adult leaders, and focuses on safety for our youth.
This is Scouting:This new class replaces the old "New Leader's Essentials. This

online course

is required to earn the Trained patch and should be completed before taking Leader-Specific Training. This course helps the new leader understand what resources are available to them.
Taught as part of Basic Training, this course focuses on helping you to accomplish your responsibilities.(As soon as Basic Training is announced this link will be active.)
For some positions, North Star Training teaches an Outdoor Leader Skills course.
Need to fill out a Tour Plan? Click here
As in life, the need for improvement and learning of additional skills never stops. The Scouting program provides both ongoing and advanced training programs intended to help you as leader become more effective. These include: