Welcome to Sea Scouting!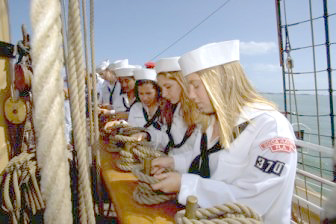 Sea Scouting is a division of the Boy Scouts of America for young men and women between the ages of 14 & 20. Its purpose is to bring a character building, citizenship training, and fitness program to the youth of America. Civic clubs, churches, schools, maritime organizations, businesses, unions, and other community organizations that provide adult volunteer leaders, program resources, and meeting facilities organize Sea Scout Ships. These Ships plan programs related to maritime careers, seamanship, and service.
Sea Scouting, BSA started in 1912 and has a long and colorful tradition. Thousands of young men and women have had the opportunity to follow the traditions of the sea while learning what the future holds for a career related to the sea or a lifelong hobby of recreational boating. Many Sea Scout Ships maintain sail or power vessels, follow a challenging rank advancement program, wear a nautical uniform, and adopt nautical customs and ceremonies.
What Does a Sea Scout Do?
The program of a Sea Scout Ship is based on matching the interests of the members with the skills, equipment, and resources of the chartered organization. Most Ships follow the traditional advancement program found in the Sea Scout Manual. The Ship's program follows the customs and traditions of the sea and encourages members to earn the ranks of Apprentice, Ordinary, Able, and the prestigious Quartermaster Rank (equivalent to the Eagle Scout rank).
The Sea Scout advancement program includes boat safety, customs, swimming, boating, marlinspike seamanship, piloting, signaling, drill, cruising, galley, sailing, first aid, navigation, boat maintenance, engines, sea history, lifesaving, marine electronics, weather, radio, and ideals. The Sea Scout advancement program of Apprentice, Ordinary, and Able ranks leads a youth to achieving the Boy Scouts of America's highest Scout rank, QUARTERMASTER.
Remember…
Sea Scouts, BSA is a co-ed program for young men & young women between the ages of 14 & 20.
You can be a member of a Sea Scout Ship and continue to participate in another Scout troop or crew.
In Sea Scouts, youth lead and adults only advise. Youth work together to plan meetings and activities. Adults provide assistance only when asked.
To Learn More...
The "Welcome" link on the Sea Scouts BSA home page has a great introduction to Sea Scouting.
Ready to Join?
Find out more about Ship 3! (New in 2011!)