<<-- Click here for our event survey
University of Scouting 2018

February 24, 2018



What is University of Scouting?

The University of Scouting is an annual training event for Cub Scout, Boy Scout, Varsity, and Venturing leaders. This one-day training conference is for leaders from the entire council and takes place in a festive atmosphere. Classes are taught by experienced volunteers who share not just their knowledge. but their passion about their subject.

The University of Scouting is a one-day "convention." Each leader no matter what position is invited to this learning extravaganza. Often, a leader can chose up to three morning and three afternoon sessions. Some classes may take two sessions, and others are all day.

Sessions cover many topics across seven different colleges including helps for new leaders, outdoor skills, advancement, creative activities, great ceremonies, Wood Badge, NYLT, dutch oven cooking, building youth leaders, administration, and much, much more. It's a time for experienced, new, and prospective leaders to share ideas and see what other troops, teams, crews, and packs are doing. With more than 110 classes to choose from, University of Scouting has something for everyone -- and a wonderful day well spent. Plan now to attend and bring your friends! See you there!
Who can go?
Any Scouting leader, parent, ward or stake leader is invited.
What does it cost?
The whole day of learning and fun is only $10! (additional fees for some classes like CPR certifcation, etc. may apply). A delicious catered lunch is available at an nominal cost of $6.
REGISTER HERE:
GETTING IS GIVING!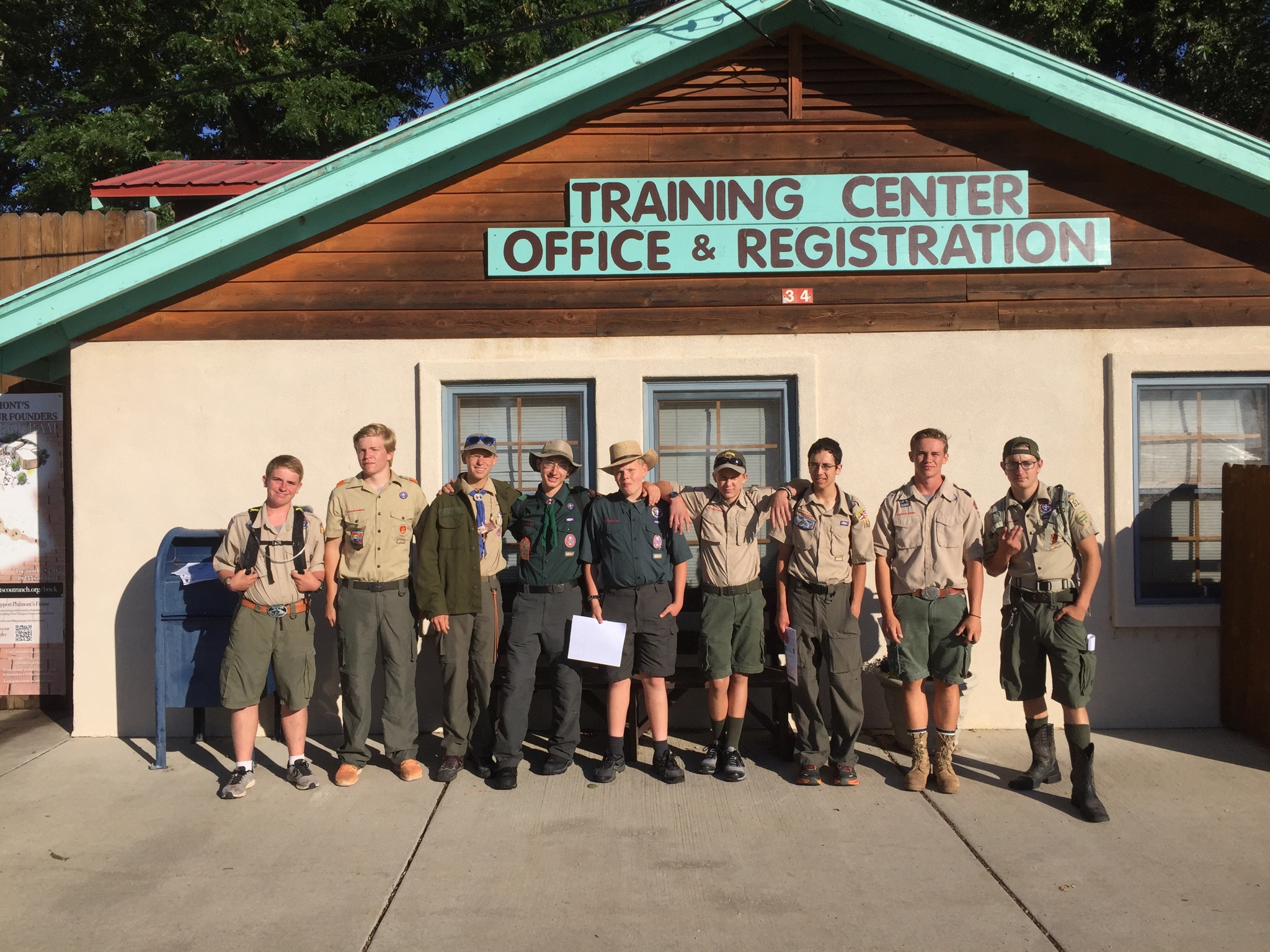 Get the official University of Scouting T-shirt and give our Scouts the opportunity to go to advanced leadership training opportunities at Philmont!
UNPC Philmont NAYLE 2016 Participants
Get the University of Scouting T-shirt and help our youth go to training! All proceeds from these t-shirts will go directly to fund scholarships for our council youth to attend National Advanced Youth Leadership Experience (NAYLE) training at Philmont each summer. These youth will return and report at University of Scouting as well as in their districts and local units about their amazing experiences and the new leadership skills they've learned. Please support our great Scouting youth – Getting is Giving.
Order your t-shirt when you register for University of Scouting 2017.
Support our awesome youth!